New Expanse Video: From Page to Screen
by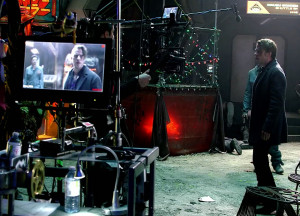 Curious about the process of adapting a book series for television? Book Riot has an exclusive video from Syfy detailing the process. With a ton of interviews and new footage from the show, it's a great feature that will get you pumped for The Expanse and thinking about squeezing in a reread of the books before the premiere.
But you'll want to start rereading Leviathan Wakes today, as the big day will be here before you know it. Seriously, it's right around the corner! Starting on November 23rd you'll be able to watch the first episode via Syfy On Demand, Syfy.com, the Syfy Now App, Hulu, Amazon, Google Play, Vudu, iTunes, Playstation, Xbox, Facebook and YouTube in advance of the cable premiere.
In case you missed some of the previous backstage videos, you can watch them all at Syfy.com. We really recommend checking out "Worlds of the Future." It's got some great footage from the sets you'll see in the show.